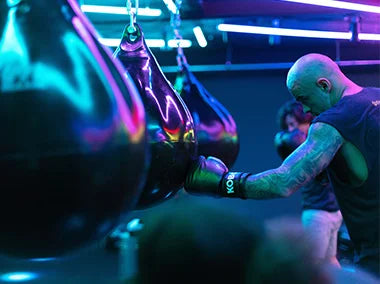 Out with the Old, In with the H20
In 2014, Aqua Training Bag® creators, Edwin "Eddie" Rivera and William "Bill" Ryders, knew something had to change when their members were sustaining repeated injuries from the old-school unforgiving, sand-filled heavy bags hanging in their gym.
They began searching high and low for a bag that was durable, sustainable, and didn't have that dreaded, painful hard spot found in the sand-filled bags. But search after search they came up short. So they did what most gym owners wouldn't dream of doing … they made their own.
And after experimenting with equipment of all shapes, sizes, and materials, Eddie and Bill discovered that the perfect solution for their new heavy bag wasn't anything new at all, it was simple. It was water
Why Water?
The Aqua Training Bag is the perfect training tool for boxers, trainers, professional fighters, and everyday fitness enthusiasts. By utilizing water in place of sand or other materials commonly used to fill heavy bags, our Aqua Training Bags provide these unique benefits:
Flexibility.

The water-filled bags have more give with the ability to absorb kinetic energy — eliminating the hard spots often found in sand-filled heavy bags.

Easy Transportation.

Training at multiple locations? Users can conveniently take an empty bag anywhere when they're on the go.
Enhanced Training.

Our bags help users train longer and harder without the risk of injury or pain. No more holding back to avoid injuring knuckles and joints.

Low-Cost Shipping.

Bags ship unfilled, so they are lighter and less expensive to ship than traditional sand-filled bags.
Effortless Filling.

Aqua Training Bags can be filled and drained within minutes, plus you can control how hard or soft your bag is by simply adding more or less water.

The "Real" Feel.

The composition of our bag creates a sensation similar to striking a real human body – ideal for professional boxers and MMA fighters.